When Walter Matthau Revealed the 'Big Joke' He Played on Everyone
Rockettes Reflections
By Susanne Doris
Throughout their 90-year history, the world-famous Rockettes have shared the stage—and unforgettable adventures—with many other world-famous personalities. They have appeared at such iconic events as the Macy's Thanksgiving Day Parade and the Super Bowl and on TV shows like America's Got Talent and Night of 100 Stars. The Rockettes are taking a moment to reflect on their favorite stardust memories.
During the golden years of the silver screen, celebrities rarely missed an opportunity to make an appearance on opening night at Radio City Music Hall (since 1933, more than 700 movies have premiered at the Hall!).
In January 1976, Walter Matthau and George Burns came to Radio City for the premiere of their new comedy, "The Sunshine Boys." It was the end of the first preview and we were all on the orchestra pit elevator (the Great Stage is comprised of four hydraulic-powered elevators; one of which rises and lowers the entire orchestra) with Walter and George in the center. We waved as the pit elevator slowly lowered below the stage and that is when we had an opportunity to speak to them.
I noticed that Walter had this big bandage over his forefinger. I turned to him and asked, 'What happened to your finger?' He pulled the bandage off and said, 'Oh, nothing. But this way, I don't have to sign any autographs.'"
The bandage was a ploy! To him, he thought it was a big joke he had played on everyone, and revealing his "secret" to all of us was even funnier. That duo had us in a fit of giggles all night long.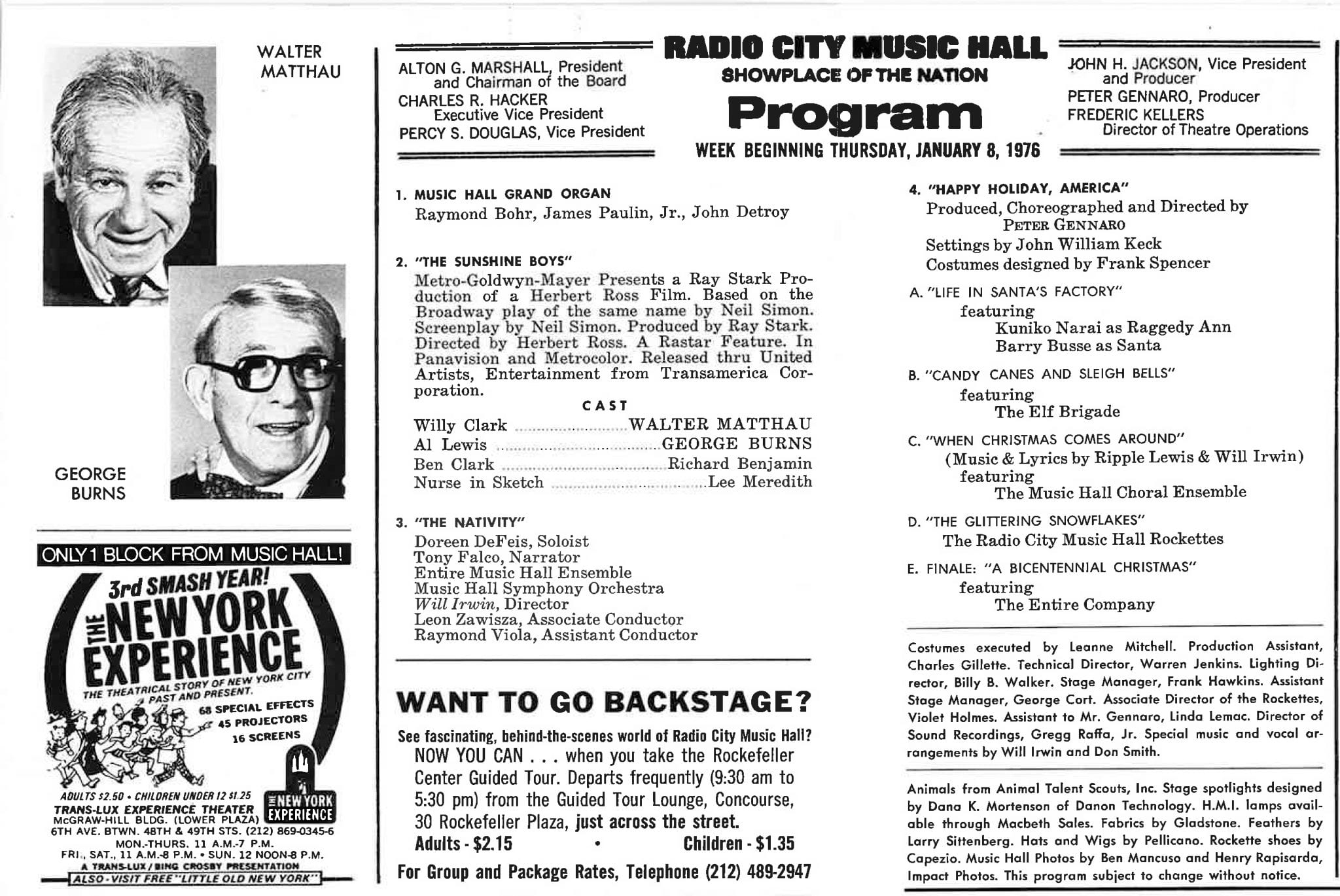 Susanne Doris was a Rockette from 1971 to 1999. She currently resides in New York, NY.