What Rockette Alyssa Is Thankful For
By Alyssa E.
T
he holidays provide the perfect backdrop to gather with family and loved ones and create memories to be cherished for years to come. For the past 12 years I have spent every holiday season with my Radio City family performing as a Rockette in the annual Christmas Spectacular. I love that four times a day I am part of creating those magical moments that bring families together. Each performance I get to see the wonder in a child's eye as they sit in awe of the precision that is the Rockettes. And with every eye high kick I am beyond thankful for my own family; for if it weren't for them, living out my childhood dream on the greatest stage in the world would never have been a reality.
When I was eight, my grandmother took me to Radio City to experience the Christmas Spectacular for the very first time. I was hooked from the moment I stepped foot in the Grand Foyer. No place on earth does Christmas like Radio City! I remember sitting in the first mezzanine and watching the iconic "Parade of the Wooden Soldiers." You never forget the first time you witness the jaw dropping moment of 36 women executing the famous fall with both strength and ease. I knew that I would grace that stage one day. My dream of becoming a Rockette was born.
My parents could not have been more supportive of my big dreams. From a very early age they never told me my dreams were silly or beyond reach. They allowed me to follow my passion and helped in any way they could. They were my chauffeur to dance class and helper of homework. They were a shoulder to cry on when my feet hurt and they were always my biggest cheerleader to celebrate milestones.
They continued to support my decision to attend college to pursue a BFA in Dance. And even though I was half way across the country they never missed a performance, no matter how big or how small. My quest to becoming a Rockette began after graduation and my return back to New York City. My first three auditions ended in heart break, but my parents never told me to quit or give up. The fourth audition brought the phone call I had been waiting for my entire life. Upon hearing the news I was going to be a Radio City Rockette, I got to make the greatest phone call I had ever dialed; to my mom to give her the news. I remember jumping around my apartment, both of us crying and screaming. A testament that hard work and an amazing support system pay off.
Having my parents located in New Jersey makes it super convenient for them to make a quick trip in to catch the show. My first year performing the show at Radio City my mother saw the show 18 times! 18! She knows the show so well, that she will start cheering and clapping a split second before a number ends just so I can hear her. My parents will also be the first to jump to their feet at the end of show in order to give us hard working Rockettes a standing ovation.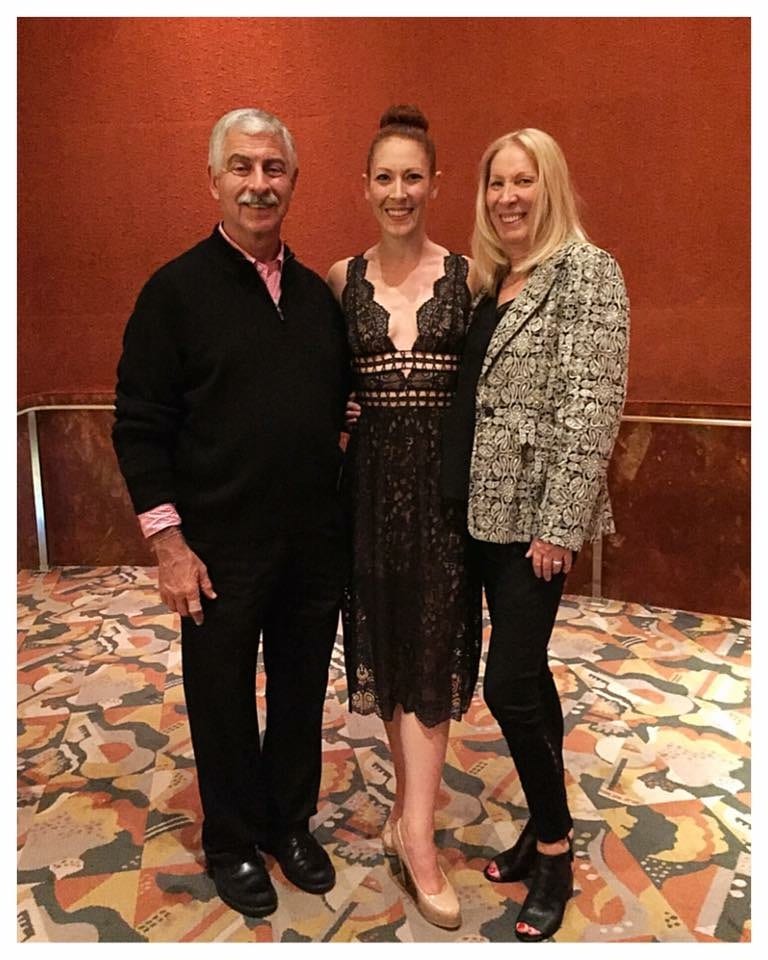 The true test to our family and our bond came last February when I received the devastating diagnosis of early stage breast cancer. True to form, my parents stepped into their supporting roles and never let me down. They accompanied me on every doctors appointment. They were there to hug me before surgery. And they were there to encourage my return to dance. The road to recovery was long but my parents were the pillars of strength I needed to get me back to the stage at Radio City. And you better believe on opening night last year, when I stepped on stage, cancer free, my parents were in the audience to take it all in.
When I think of what I am thankful for this holiday season, my parents will always top my list. They are the reason I am able to live out my dreams today. They have never let me give up; no matter the obstacles placed in front of me. Not only are they loving and caring but they are selfless. They have stood by me through the good and the bad, never wavering in their unconditional support.
While my grandmother watches me from above, you can most likely catch my parents in the same two seats on the aisle in the center section at Radio City. How lucky and forever thankful I am to get to call these two phenomenal people simply mom and dad.
---
Want more Rockettes? Click here to see us at Radio City Music Hall this holiday season in the Christmas Spectacular!