Wardrobe Wednesday: 'Reindeer'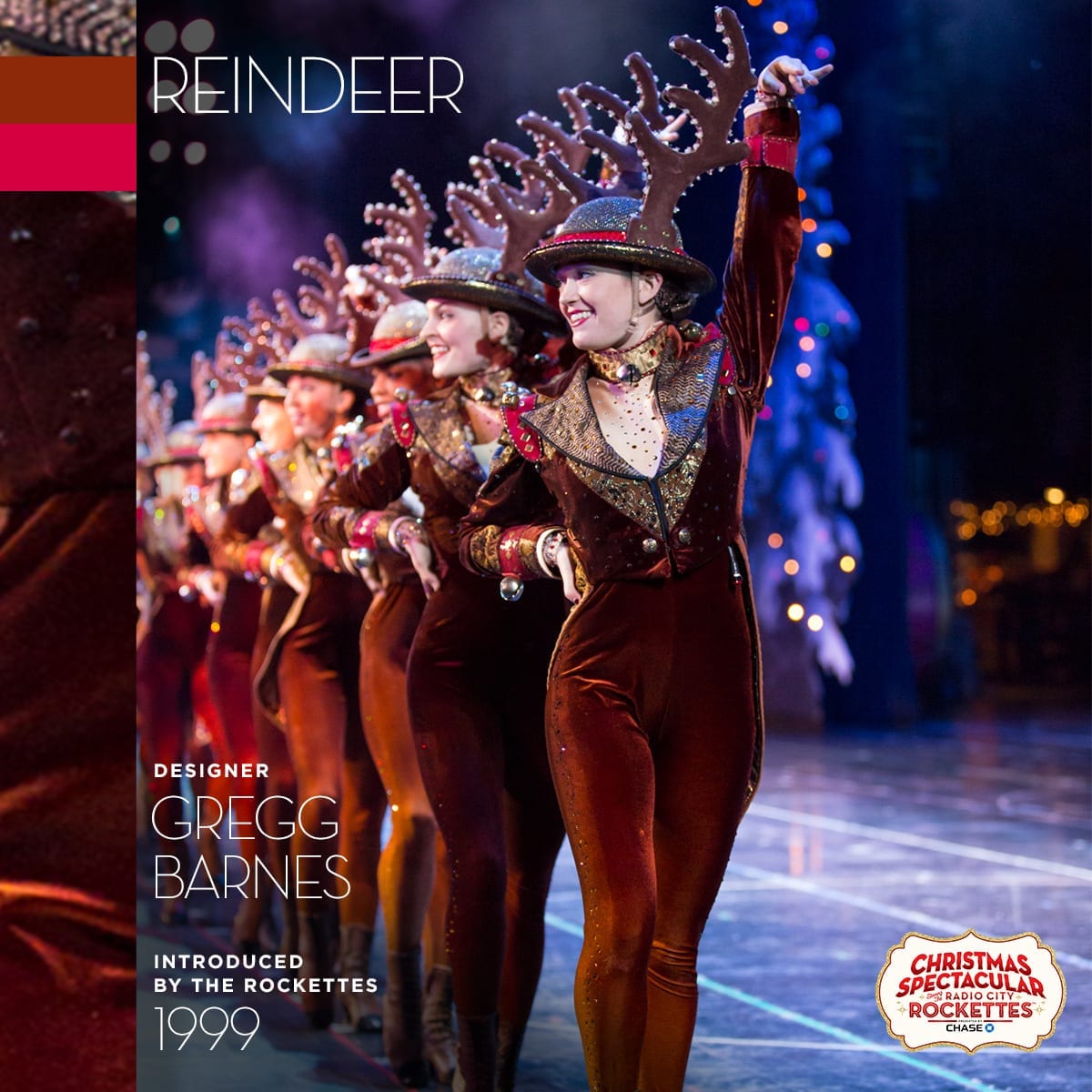 T
hrough the snowy mist of the magical Northern Forest, we Rockettes are revealed as Santa's reindeer in the first number of the Christmas Spectacular, "Sleigh Ride," eager to make that special unscheduled flight—direct to New York City.
While the number itself is quite magical (after all, Santa arrives with good cheer in his special sleigh, bursting with presents just in time for the big show at Radio City Music Hall!), the adorable costumes we wear are just as mystical. Here are a few fun facts about our "Reindeer" get-ups:
We get dressed in this costume in our dressing rooms before the show. Designed by Gregg Barnes in 1999, the "Reindeer" costume is the only one we get dressed into in our dressing room. After that, it's all about quick changes in the wings!
Each Rockette manually turns on her antlers. One of our favorite parts about this costume is the twinkling antlers with tiny lights on them, which are manually turned on by a cord that runs from the hat through the jacket to our waist. We press the button on a specific count, to specific music, on a specific step.
The jacket is made up of various fabrics. The tailcoat (a coat with the front of the skirt cut away, leaving two long tapering skirts at the back) is made up of five different fabrics with large appliquéd sections to create the graphics.
Custom-made LaDuca's. We wear custom-made LaDuca dance boots that are painted black and brown to resemble reindeer hooves.
Each unitard is printed by hand. The unitards are made of a screen-printed stretch velvet that has an ombré effect to it (meaning the top of the unitard is a darker brown and gradually fades down to a light brown near the knee).
Hand-sewn bells. We wouldn't be reindeer without some jingle jangle! All the bells that you see on this costume are real and are applied by hand.