Wardrobe Wednesday: 'Rag Dolls'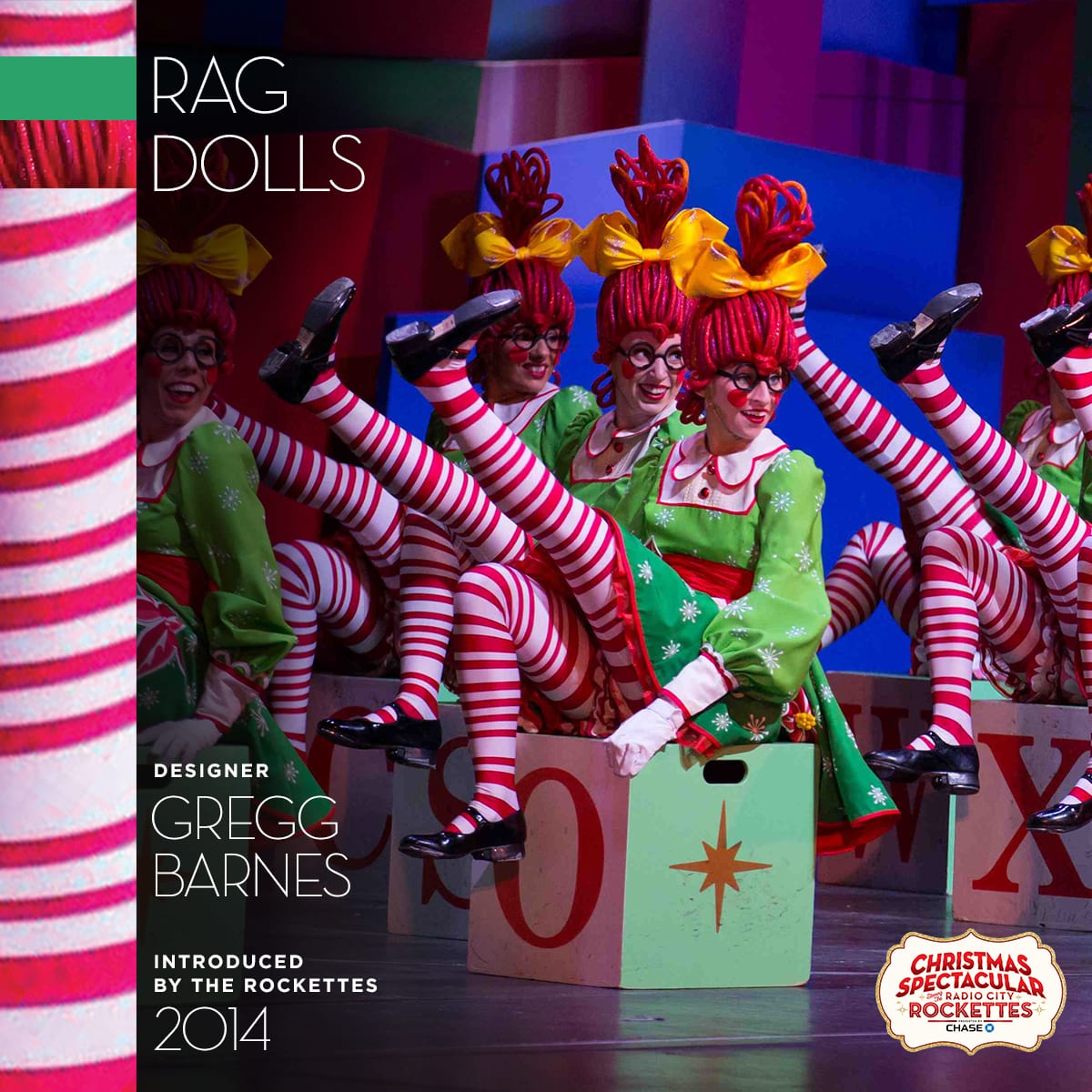 For the 2014 Christmas Spectacular, we brought back a fan favorite to the Great Stage: "Rag Dolls." This high-energy tap routine takes the audience through Santa's workshop while the rag dolls kick, tap and spin their way to the top of everyone's holiday wish list.
While this spirited number offers a glimpse of child's play at its best, our whimsical and charming costumes, designed by Gregg Barnes, are a sight to see. Here are a few fun facts:
The fabric is digitally printed. The dress is stitched to perfection with synthetic fabric that's digitally printed "ombre" (meaning the bottom of the dress is a darker green and gradually fades up to a lighter green near the collar). The undergarments are also digitally printed—including those adorable red snowflake rompers and red and white striped tights.
They're headpieces, not wigs. Tubes of different colored synthetic horsehair are fashioned to look like ringlets, and attached to a lightweight skull cap with a chin strap—so it's more like wearing a hat than a wig.
Frames sans lenses. The specs we wear in this number are plastic round-rimmed frames that have the lenses popped out. Pretty trendy if you ask us!
Rosy red cheeks. Look familiar? These cheek dots are the same ones that we wear for the "Parade of the Wooden Soldiers" number.
Special tap shoes. Starting out with a patent Mary Jane, wardrobe removes the heel and sole, and inserts a custom leather sole that attaches to the bottom of the tap shoe. A new heel is made that allows a special cavity within the heel for the sound transmitter to be stored inside—this helps pick up the sounds of our taps.