How Rockette Alyssa Kicked Cancer: 'Life Has a New Meaning'
The Life of a Radio City Rockette
On February 27th, 2016, I was diagnosed with Breast Cancer. I was a 34-year-old non-smoker who barely drank alcohol and worked out almost daily. Oh did I mention I was a 10 year veteran of the world-famous Radio City Rockettes? I asked myself how this was happening to me. But it was, and I had to make some pretty important decisions regarding my future.
When the word "cancer" becomes part of your daily vocabulary, you are able to see the world though new eyes. Life has new meaning. Before I was diagnosed, I had booked trips to London, Hong Kong and Bali the six weeks following my diagnosis. I did not cancel those trips and I am so thankful my doctors and family members encouraged me to go. This was the beginning of me being "good at life." I took nothing for granted on these trips. I was able to experience the energy of London, the hustle and bustle of Hong Kong and the exquisite beauty of Bali because I was seeing these places with such a grateful heart.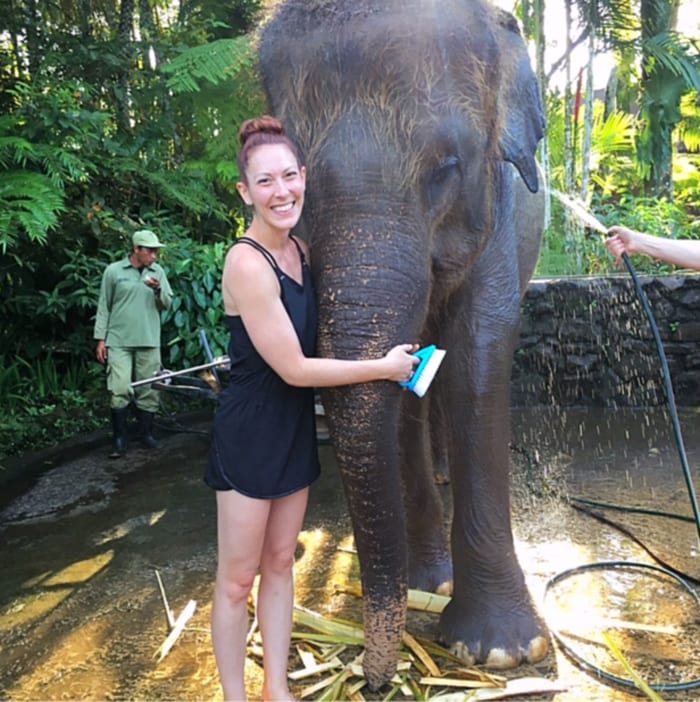 The timing of these trips ended up being exactly what I needed to focus on at that moment in my life. When I returned home, I made the easy, but extraordinary difficult decision to go with the most aggressive form of treatment for my early stage cancer. I had a lot of life left to live and I wanted to get back to living it! On April 19th, on what should have been my second day of rehearsal for the New York Spectacular, I underwent a double mastectomy. I needed to put this behind me and return to what I loved … DANCING!
I was not going to let cancer stop me from living the fullest possible life I could live. Four and a half weeks following surgery, I grabbed by dance shoes and headed back to class. I was far from recovered, but I was given the all clear to slowly and cautiously return to my normal activities. Ever since the age of eight, when my Grandmother first took me to see the Christmas Spectacular, I knew I wanted to be on that stage one day. I had actually achieved my dream and I wasn't finished. Cancer would not put an end to my career.
"I was not going to let cancer stop me from living the fullest possible life I could live" —Rockette Alyssa
But this meant I needed to hold off on reconstructive surgery so I could once again perform as a Radio City Rockette. Four months after surgery, I successfully auditioned to return to the 2016 Christmas Spectacular. Each and every performance this season for me is a blessing—tomorrow is not guaranteed. I encourage everyone to go after their dreams today. Book that trip you have always wanted to take. Sign up for that class you were having second thoughts about. As the saying goes, "I don't regret the things I've done, I regret the things I didn't do when I had the chance."
I found my life became enhanced tenfold by opportunities to give back. Whether I was teaching a class to dance students or raising money for various charities, it was these moments that made me feel I was good at life. While going though my diagnosis and subsequent surgery, the support I received from family, friends, co-workers and strangers alike was overwhelming. I only hope that I can help support, inspire and encourage others just as much as I was when I needed it most.
Sometimes the universe has other plans that want to knock you off course. For me I had to return to my passion and love of dance and show cancer who was boss! Every day I live my dreams and follow my heart.
BEHIND THE SCENES OF THE CHRISTMAS SPECTACULAR
Watch to learn some fun facts about our nearly 6-minute tap number, "12 Days of Christmas"!
---
Want more Rockettes? Click here to see us at Radio City Music Hall this holiday season in the Christmas Spectacular!