Rockettes' Pick for Dancer of the Week: 45-Foot-Tall Ballerina Sculpture at Rockefeller Center
Who: Jeff Koons' "Seated Ballerina"
Her dance: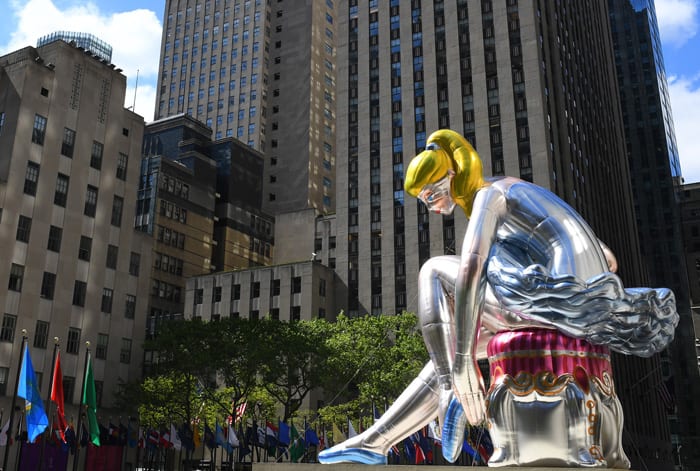 Why we chose her: So, she's not exactly … real. But what our dancer of the week represents, definitely is.
Meet "Seated Ballerina," the latest larger-than-life art installation from renowned artist Jeff Koons. The nylon sculpture, that's on display until June 2, is inflatable and stands (well, sits) 45-feet tall at the base of New York City's Rockefeller Center. Part of Koons's Antiquity series, this work of art was inspired by a small porcelain figurine, and "acts as a contemporary iteration of the goddess Venus."
What we love most about it—aside from having a ballerina front and center in our favorite city—is that she's reflective; both on her actual surface (mirrors surround the landscape and engage viewers as they approach!) and in her pose.
"I hope the installation of 'Seated Ballerina' at Rockefeller Center offers a sense of affirmation and excitement to the viewer to reach their potential," Koons says in a press release. "The aspect of reflectivity emulates life's energy; it's about contemplation and what it means to be a human being. It's a very hopeful piece."
In addition to being a very Instagram-worthy piece of public art, the sculpture is meant to raise awareness for National Missing Children's Month, as well as The International Centre for Missing & Exploited Children. Dance-themed art with a positive message? That's definitely something we can get behind.
Fun fact: Worried about how she'll hold up in a storm? Don't be. She'll be temporarily deflated if bad weather sweeps through the area.
Rockette kicks (on a scale of 10 to 10!):