Rockettes' 9 Favorite Holiday Light Displays In New York City
N
ew York is always a city of lights, but during the yuletide season, the Big Apple glows even brighter than usual (especially with that 72-foot tall Norway Spruce in Rockefeller Center that's adorned with more than 50,000 multi-colored LED twinkling lights!). From the ethereal angels in Channel Gardens to the outlandish Christmas light displays in Brooklyn's Dyker Heights, here are nine of our favorite NYC wintertime attractions that are sure to brighten up your holiday season in unforgettable ways:
1. New York Botanical Garden's Holiday Train Show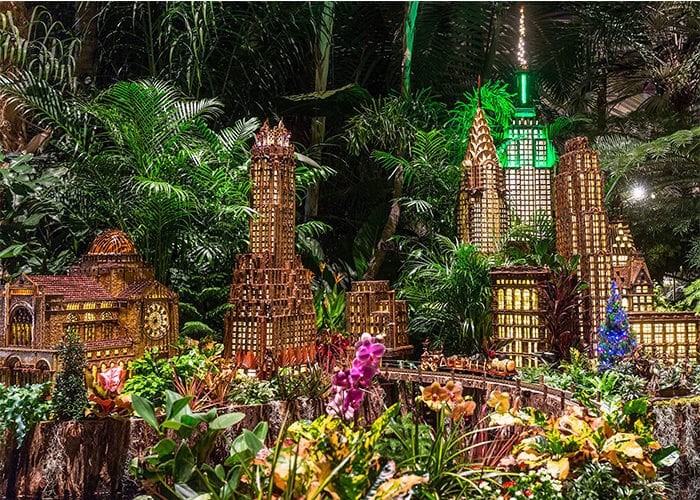 Photo Credit: NYBG
The New York Botanical Garden's 27th annual Holiday Train Show sees the museum's Enid A. Haupt conservatory converted into a stunning miniature landscape that holiday-lovers of all ages will adore. Watch more than 25 G-scale model trains and trolleys wend their around 150+ mini-landmarks (including new re-creations of the Statue of Liberty, Ellis Island, Battery Maritime Building and the show's first-ever rendition of One World Trade Center!) all rendered using natural materials such as bark and leaves. This year's exhibit showcases Lower Manhattan's architectural wonders; and a light-filled finale adds an extra touch of Christmas magic to this popular holiday attraction.
2. Luminaries Light Installation in the Winter Garden at Brookfield Place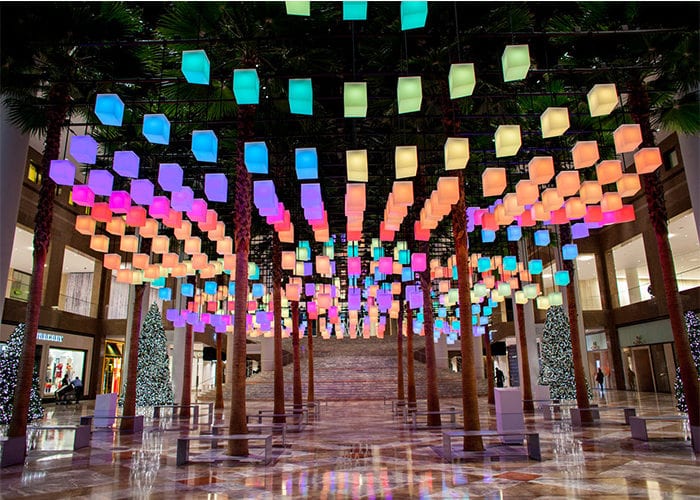 Photo Credit:Arbuckle Industries
New York City's light displays are mostly feasts for the eyes, but the technologically astute exhibit Luminaries in the Winter Garden at Brookfield Place appeals to each visitor's sense of touch as well. This holiday light installation, which was created by famed designer David Rockwell, consists of a smattering of 650 suspended lanterns whose colors can be manipulated by users who interact with one of the display's three "wishing stations." Could there be a more 21st century holiday light display in NYC? We're betting not.
3. American Museum of Natural History's Dinosaur Sculptures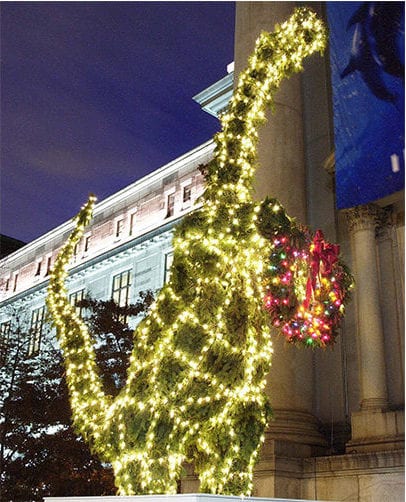 Photo Credit: D. Finnin | AMNH
In addition to its famed only-in-New-York Origami Tree, the American Museum of Natural History attracts visitors and passersby with an annual lights display that includes a festive holiday tree and illuminated dinosaur topiary sculptures. For kids (and adults!) who love all things dinosaur, this is a must-see.
4. Winter Village at Bryant Park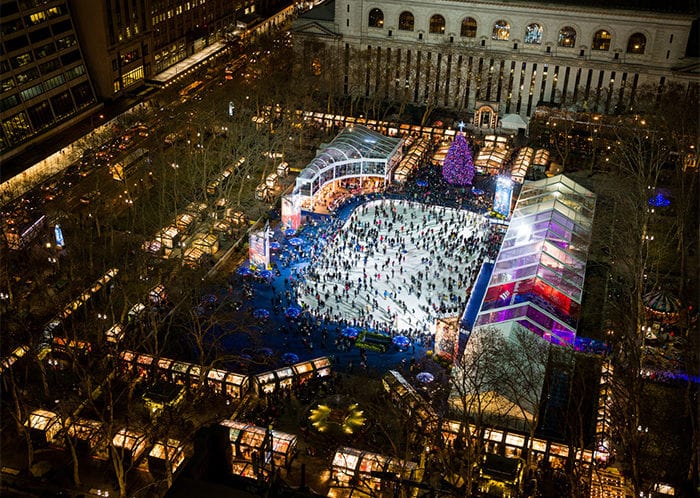 Photo Credit: Angelito Jusay
Wintertime delights abound at the Bank of America Winter Village at Bryant Park. Whether you opt to do a few laps around the skating rink, grab a bite at Public Fare or explore the 125 food and artisanal boutiques lining the park's pathways, you're sure to experience some holiday magic amid the Village's many attractions and twinkling lights.
5. World's Largest Chanukah Menorah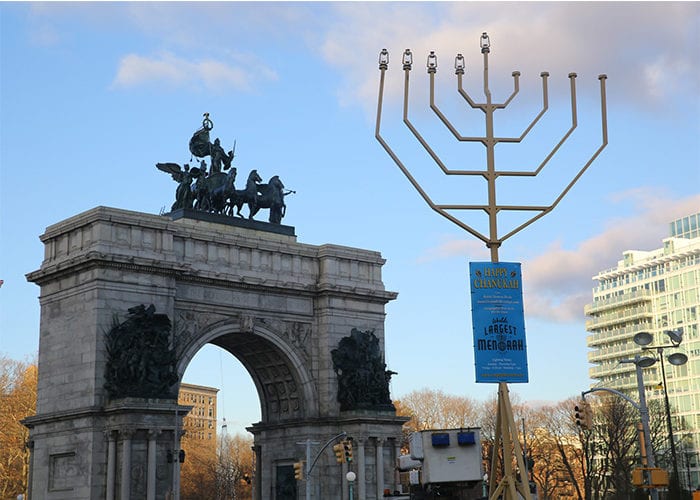 Photo Credit: Chabad Park Slope
Explore a new neighborhood in the boroughs of New York by checking out the World's Largest Menorah in Brooklyn's Park Slope. Standing at 35-feet over Grand Army Plaza, the 4,000-pound, luminous gold-colored menorah has been drawing crowds since 1985.
6. UNICEF Snowflake Ornament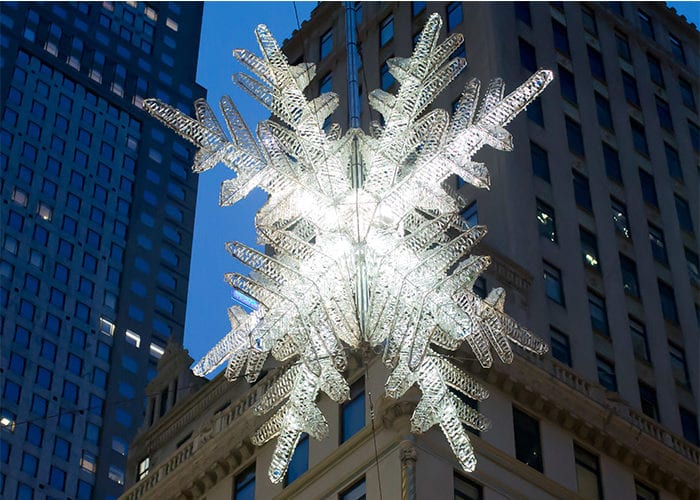 Photo Credit: Neilson Barnard | Getty Images
One of the major hallmarks of the holiday season in New York is the 3,300 pound, 28-foot UNICEF snowflake ornament that hangs over 57th Street in Manhattan. Comprising of 16,000 individual crystal prisms, this glittering emblem lights up the city while drawing attention to the organization's inspired and committed community who have pledged to safeguard the world's children.
7. Dyker Heights Neighborhood Holiday Display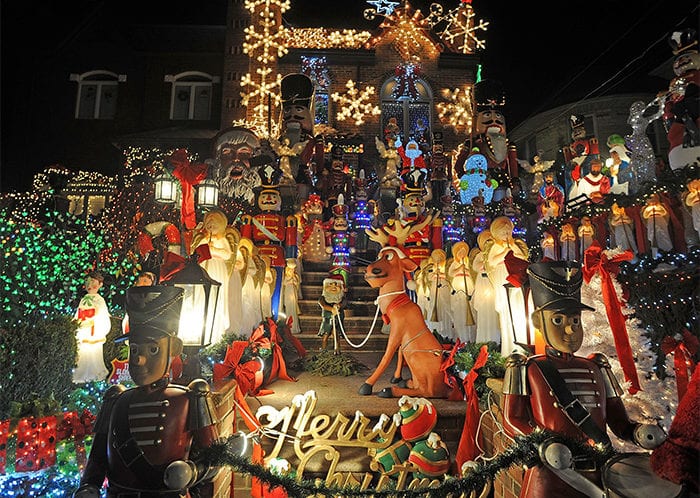 Photo Credit: Bobby Bank | Getty Images
Most of New York City's superlative holiday displays belong to parks or major institutions. But in Dyker Heights, a quaint neighborhood in southwest Brooklyn, the annual Christmas-lights bonanza is more of a grassroots effort. In the spirit of healthy competition, homeowners in the neighborhood cover their houses, yards and everything in between with lights, festive inflatables and otherworldly decorative, motorized displays. Fun fact? Some of the decorations can cost upwards of $20,000!
8. Fifth Avenue Holiday Window Displays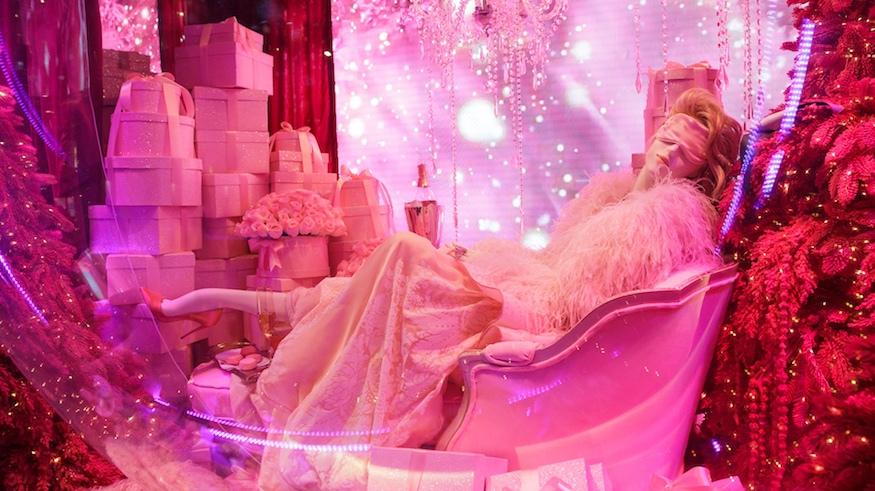 Photo Credit: Saks Fifth Avenue
Each holiday season, New York City's famed shopping destinations put a new spin on the term "window shopping" by erecting elaborate holiday displays and scenes that draw crowds with unforgettable evocations of the holiday spirit. Map out a few choice locations—Bergdorf Goodman (754 Fifth Ave. at 58th Streets), Tiffany & Co. (727 Fifth Ave. between 56th and 57th Sts.), Bloomingdale's (59th St. and Lexington Ave.) and Macy's (34th St. and Sixth Ave.)—and embark on a transformative window-shopping tour. And be sure not to miss Saks Fifth Avenue's Broadway-themed "Theater of Dreams" windows, which incorporate digital elements for the first time in the store's remarkable history. (In 2014, we Rockettes helped Saks Fifth Avenue New York kick off the season at their amazing holiday window unveiling and were the stars in their holiday magalog!)
9. Rockefeller Center's Channel Gardens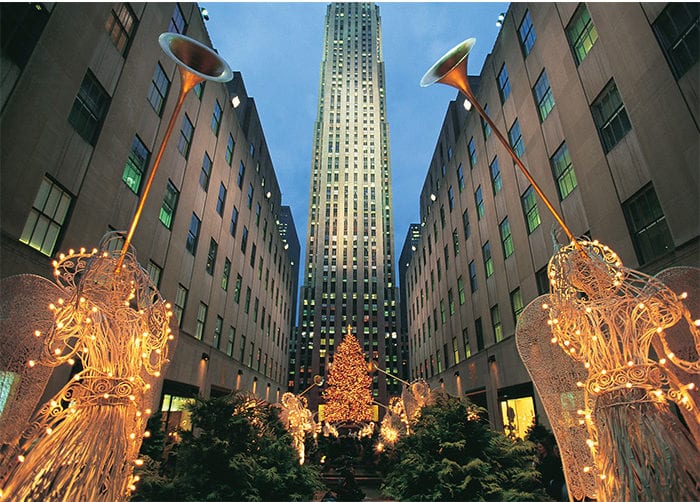 Photo Credit: Wendell Metzen | Getty Images
It wouldn't be Christmas in New York City without Rockefeller Center! From the infamous massive tree to the wildly popular skating rink, Rockefeller Center remains a must-visit attraction for any holiday-lover in the city. During the winter months, the Channel Gardens turns off their fountains and the Center is trimmed with Christmas decorations, including 12 wire-sculpture angels that hold six-foot-long brass trumpets angled toward the 72-foot tall Norway Spruce. Artist Valerie Clarebout constructed each eight-foot-high angel with hundreds of different gauge wires that she twisted and shaped into wings, faces and halos and then fastened thousands of tiny white lights that fill the area with a delicate glow.
---
Celebrate the season at the 2018 Christmas Spectacular at Radio City Music Hall, running now until January 1.