Rockette Traci's Family Time In Tennessee
Summer in Tennessee with my Aunt Janie and Uncle David was something that I looked forward to every single year as a child. They lived just outside of Knoxville in a town called Maryville, and we always flew into Gate 8 at the then-tiny Knoxville airport.
During our stay with them, we'd travel to visit our amazing family friends Jack and Denise at Loudon Lake. Spending those summer days on the water was the best: cruising around the lake, taking turns tubing together, knee boarding, taking the jet skis out, coming back and spending the rest of the evening on the dock jumping in the water and swimming around. It was such an incredible experience as a kid!
Loudon Lake is also where I learned how to water ski at the age of 8 or 9. For my first try, I used training skis. The skis were initially hooked together with ropes, and then both skis were attached to the boat. My father stayed in the water with me the whole time while the rest of my family stayed on the boat, cheering me on! I was up for maybe 5 seconds, but it didn't matter—I was hooked! I eventually graduated to normal water skis, even dropping one ski to single-water ski at one point. My favorite part was always going back and forth jumping over boat wakes. We would spend the entire day on the water after that!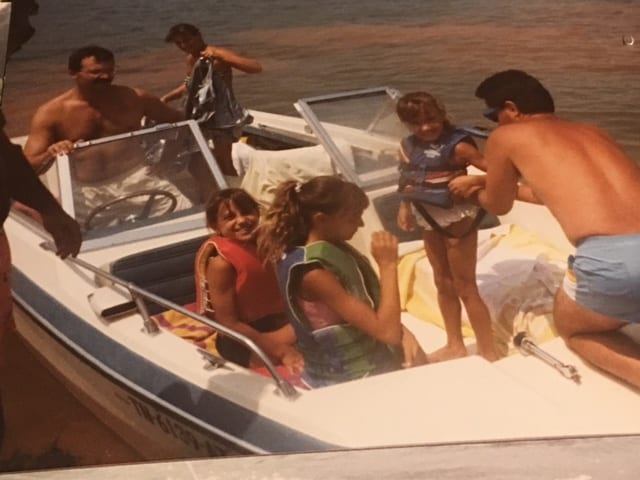 As a kid I always said I would live on Loudon Lake—that's how much I loved it! I was a summer, sun and water kid; I still am. It was so wonderful to have these experiences as a child, and it was some of my favorite time spent with my family during the summer. I will remember those times in Tennessee forever!