Rockette Traci's Family Does the Pittsburgh Kidney Walk for Her Dad
By Rockette Traci R.
N
ineteen years ago, my father, Chuck, needed a kidney transplant. At the time, he would not take a living donor. He went through years of peritoneal dialysis, a treatment that involves placing a tube into the lining of the abdomen to cleanse your blood, and at one point, while we were on vacation, he formed an abscess on the inside of his tube and went into septic shock. He ended up going through several surgeries in nine weeks, and returned home with many obstacles. These obstacles included refusing some kidney donations due to his injuries. After that, he decided to explore his living donor options.
Both of my aunts (his sisters) were tested, and my Aunt Lori happened to be a perfect match. She donated her kidney to my father and changed his life for the past 16 years—she gave him many more years with my mother, my sisters, my entire family and me!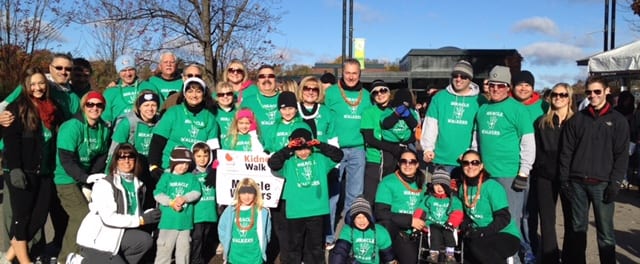 After everything my dad went through, The Kidney Walk in Pittsburgh has become very important to my family. Every August, we get together to celebrate and honor "Sydney the Kidney" (yes, we named his new kidney!). We join others in the Pittsburgh community to walk for my father, for my aunt, and for our family to continually celebrate how blessed we are as a whole.
My family, especially my parents, have always been my number one fans and I am so grateful for every single year that I have with all of them. Especially my dad, he's our miracle man!