Rockette Stage to Street Style: 'Sleigh Ride'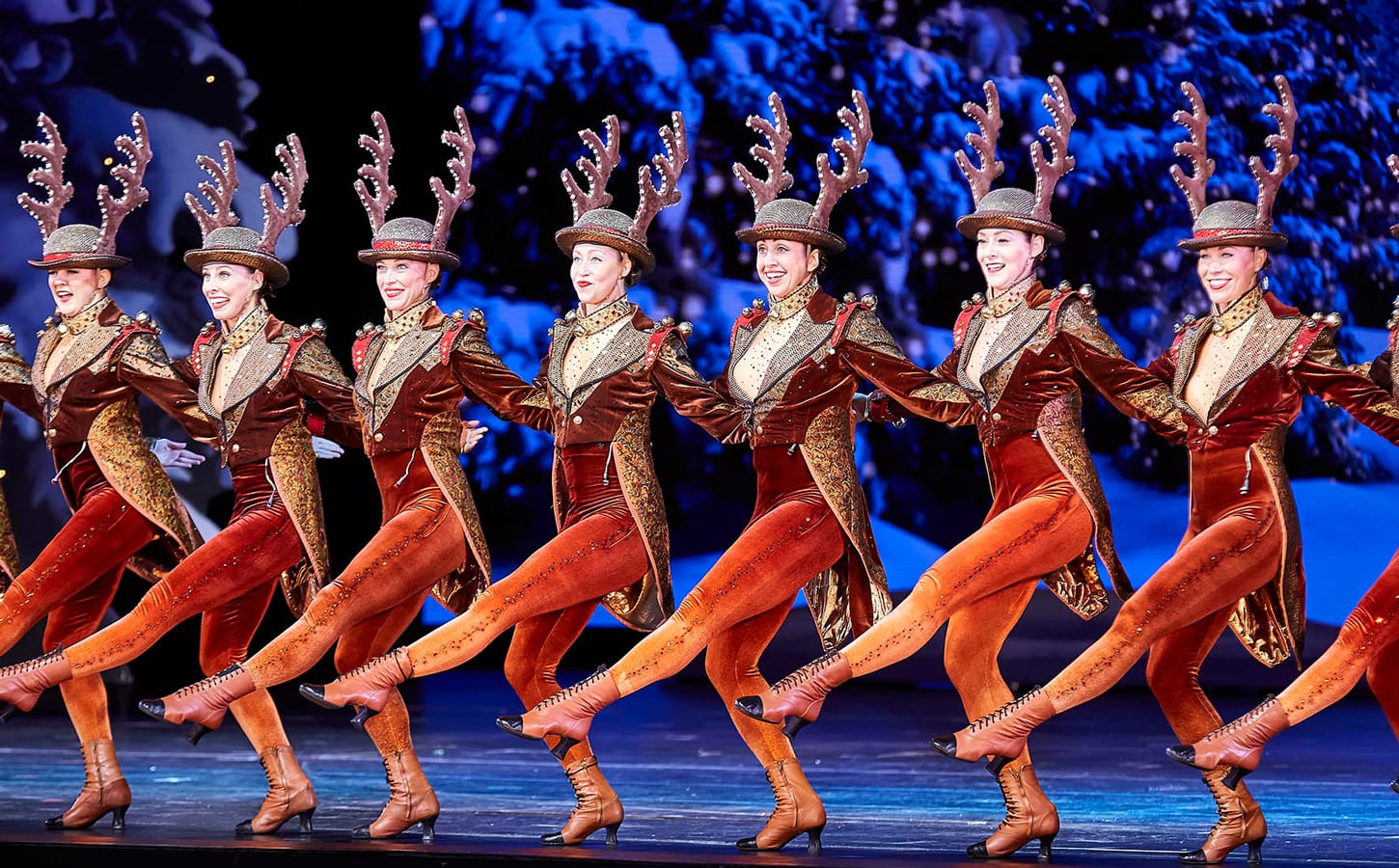 T
hrough the snowy mist of the magical Northern Forest, we Rockettes are revealed as Santa's reindeer in the first number of the Christmas Spectacular, 'Sleigh Ride,' eager to make that special flight to New York City. While the number itself is quite magical (after all, Santa arrives with good cheer in his special sleigh, bursting with presents just in time for the big show at Radio City Music Hall!) the adorable costumes we wear, designed by Gregg Barnes, are just as mystical.
While we know it's not realistic for you to purchase our reindeer-inspired get-ups in one of the many merchandise stands in Radio City, we took it upon ourselves and shopped around to find the perfect pieces for you to recreate the look of the costume for every day wear:
Velvet Pants
One of the first things you'll notice in this number is our velvet unitards; they're made from a screen-printed stretch velvet that has an ombré effect to it (meaning the top of the unitard is a darker brown and gradually fades down to a light brown near the knee). While we know that a unitard may not be for everyone, velvet is. Rich in color and texture, this silky-soft fabric has become a versatile piece for street style.
Structured Blazer
The tailcoat we wear in this number is made up of five different fabrics with large appliquéd sections to create the graphics. To take the look to the street, snag a velvet blazer (can you tell we love this quintessential '90s fabric?!) with luxe details that you can layer over your ensemble.
Lace-Up Ankle Boots
During the number, we wear custom-made LaDuca dance boots that are painted black and brown to resemble reindeer hooves! For a modern and more practical take on our LaDuca's, find yourself a pair of classic combat boots. Not only are they comfy and stylish, but they add just the right amount of the on-trend '90s grunge to your look.
Bowler Hat
One of our favorite parts about this costume is the twinkling antlers with tiny lights on them, which are manually turned on by a cord that runs from the hat through the jacket to our waist. To recreate this look yourself (sans the lights and antlers!), get your own bowler hat to wear this season.
Choker Necklace
Choker necklaces have been the 'it' accessory for the last few years. Lucky for us, we've been wearing chokers in 'Sleigh Ride' since introducing this costume in 1999! Add a statement choker to any outfit to dress up your neck without forfeiting on style.