Q&A: Director and Choreographer, Mia Michaels
Dance is Mia Michaels' life. She grew up training and dancing at her family's studio in Miami, where creating dance and movement came more naturally to her than walking down the street. Well-known for her work on Fox's So You Think You Can Dance, she has collaborated with Madonna, Celine Dion and Prince. Most recently, the multiple Emmy Award winner choreographed Broadway's Finding Neverland. The New York Spectacular marks her debut as a director.
How has New York City shaped you into an artist?
I'm madly in love with this beautiful city. My dad was my first dance teacher, and he would take me and my sister to New York City every summer so we could take dance classes. As I got older, I moved here, but, as we all know, this city can be tough unless you have a solid job. I did anything I could to be involved in New York City's dance world—from selling pointe shoes to cleaning dressing rooms. Once I got my foot in the door and started teaching and choreographing classes at Broadway Dance Center, one thing led to another. New York City made me a creative force and inspired me to dream bigger and brighter. It's my heart and soul and has molded me into who I am today as a woman and artist.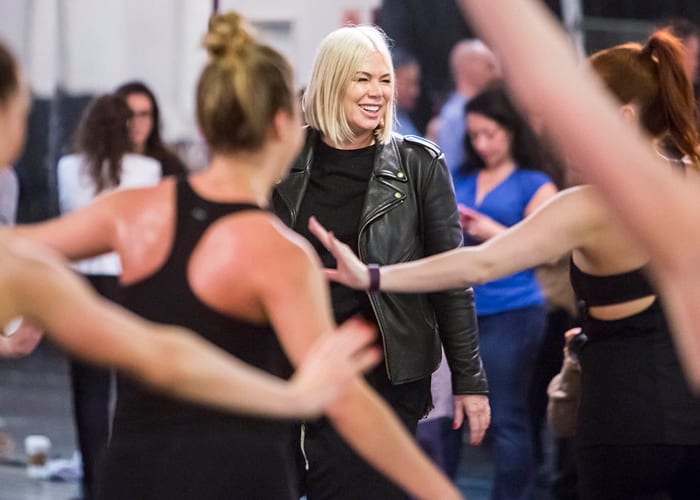 What has it been like collaborating with the Rockettes?
When most people think of the Rockettes, they think they're an all-female precision group who does a kickline. But they are so much more than that. I had no idea until I dug in—I started to explore and develop all the different pieces and different flavors of the worlds that we were creating in the show. Working with them as a director and choreographer, they're everything that I would have dreamt them to be—they are these magical, beautiful, feminine and powerful women.
Talk about the choreography you've created for the New York Spectacular.
There's a lot of different flavors in the show. There's power. There's elegance and romance. There's quirky and classical. There's tap. It's all over the map, yet the core is the brand of the Rockettes. It's taking the tradition but pushing it to a new level, making it contemporary and relevant.
How have you enjoyed the transition to director?
We're all just working together to create this beautiful world. There's no gloss here. I've worked in many productions, and it's very rare for the members of the creative team to have the same vision, drive, passion and work ethic. Every day we're growing and learning and pushing, and that's all you can ask for. I want to be uncomfortable. I want to be like, "OK, I haven't done this before. This is weird." Those are just growing pains, and once you get past them it's a big step.
You seem to inspire all those around you.
I think I bring out the best in people because every day I try to bring out the best in myself. Sometimes it's emotional and exhausting, but every single person that works with me says the same thing: "That was the hardest thing I've ever done." But when they get to the other side, they often say, "I am a completely different artist, and I'll never, ever go back." It's awesome to see people thrive under my wing. I love that.
What is it like to have Radio City Music Hall as your canvas?
Radio City is its own world, and you have to be respectful of that. You can't try to change it. The architecture and the ceiling—you have to be friends with it and work with it. The stage is enormous, so everything has to be bigger than life. You walk into Radio City and there's a heartbeat. You feel the magic of New York City inside that space—it tells you what it wants and you listen.