Outdoor Workouts: Keep Your Cool
By Erin Sandberg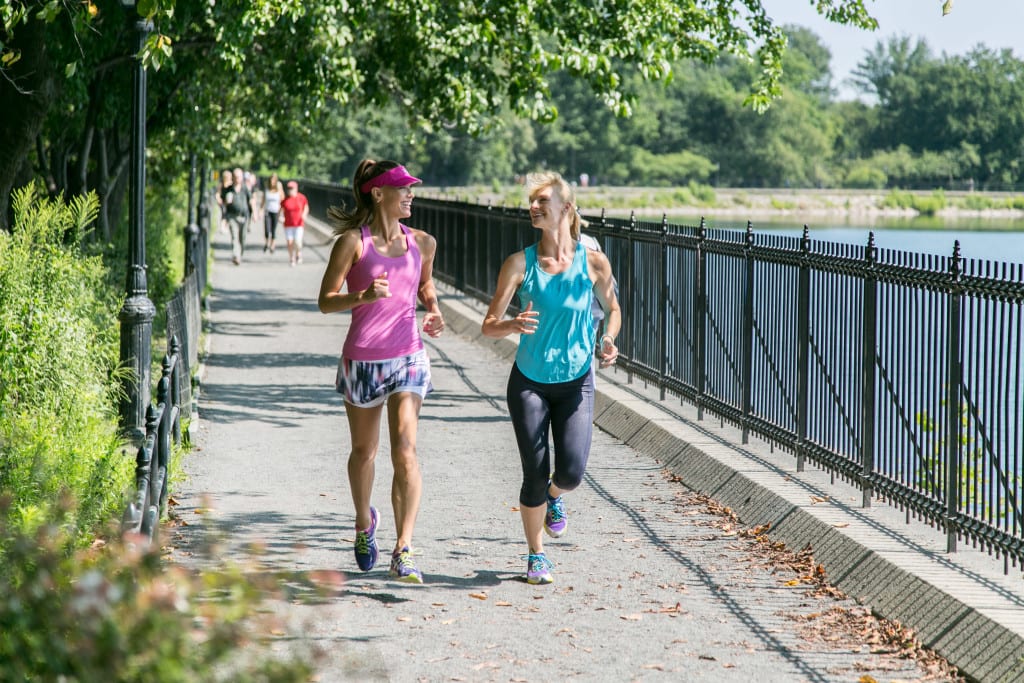 Now that summer is right around the corner, it's time to take your workout outdoors in the fresh air! But don't forget—the summer heat brings a few challenges, too. From modifying your dress code to staying hydrated, use this guide to keep your outdoor workout safe while under the sun:
Stay Hydrated
It sounds obvious, right? But here's why it's so important. Your body cools itself off by sweating, and if you run out of liquids to sweat, you may start to show signs of heat exhaustion like muscle cramps, nausea, weakness or headache. No one wants to quit a great dance exercise right in the middle, so plan ahead:
Experts recommend drinking 16 ounces one hour prior to exercise, 4-8 ounces every 15 minutes during exercise and another 16 ounces an hour after exercise. However, the amounts can vary depending on your personal response, heat index and the type of activity.
Skip out on caffeinated beverages—you'll have to make more trips to the restroom, which can be dehydrating.
If you come back from your workout one to two pounds lighter or your urine is dark, drink up! It's a sign you're getting dehydrated.
Modify Your Dress Code
The cotton tank and shorts you sport in the dance studio or the gym might not cut it for your sweaty outdoor workout. During humid, summer days, aim for well-ventilated, sweat-wicking clothes. Also try to avoid garments made of rubber-based or plastic-based materials—this can keep sweat from evaporating and keep your body temperature high during a workout.
Protect Your Skin and Eyes
Good skin protection is essential year-round, but even more so during your under-the-sun dance exercise routine. And don't just stop at sunscreen—your eyes need some TLC, too. Take these tips from the Skin Cancer Foundation to heart:
Sunglasses: Look for a pair that can absorb and block 99-100% of UVA and UVB light. In your perfect world, they'd also guard against HEV light.
Sunscreen: Use at least SPF 15, applying one ounce (a shot glass-full) to your entire body 30 minutes before starting your outdoor workout. You're not done yet: Re-apply immediately after swimming or excessive sweating.
Know Your Limits
Last but most important, understand that your expectations for your al fresco dance exercise routine should be different than what you'd accomplish in a climate-controlled studio or gym. Don't aim to break your PR on your run, or push yourself too hard in an outdoor Pilates class. Listen to your body and ease up when you need to.