8 Hidden Treasures in New York City's Central Park
Central Park is a mainstay for both New Yorkers and visitors to the Big Apple alike, and many of its attractions, such as the 55-acre Great Lawn and the picturesque Jacqueline Kennedy Onassis Reservoir, are world-famous. But New York's premier green space also contains a few lesser-known treasures, which are equally worth checking out. (Psst, here's a hack to help navigate your way if you ever get lost!) So make your trip to Central Park extra-special by scoping out these eight must-see spots: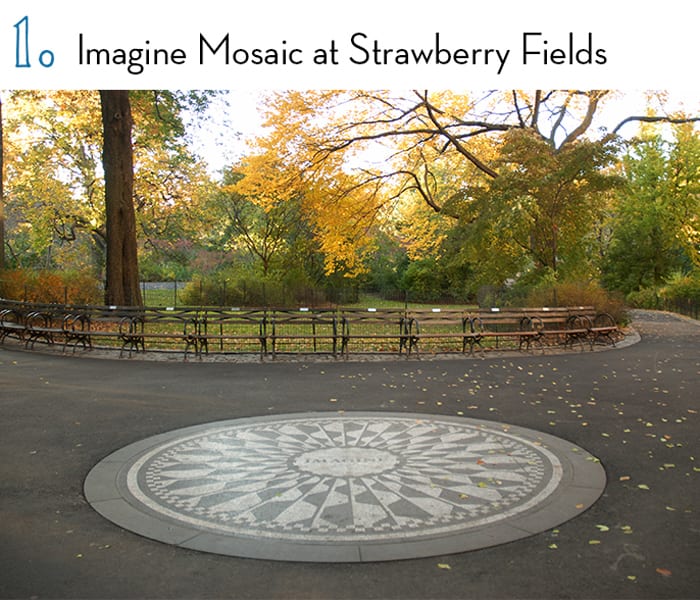 You won't have to "imagine all the people" if you visit the iconic black and white Imagine Mosaic—designed by Italian craftsmen and gift from the city of Naples—at Central Park's Strawberry Fields. A living memorial to singer, songwriter and peace activist John Lennon, Strawberry Fields was named after one of the Beatles' best-known songs, "Strawberry Fields Forever," where the attraction draws a constant stream of music lovers old and new. Dedicated in October 1985—the 45th anniversary of John's birthday—Yoko Ono, John's widow, worked with a landscape architect and the Central park Conservatory to create the two-and-a-half acre meditative spot.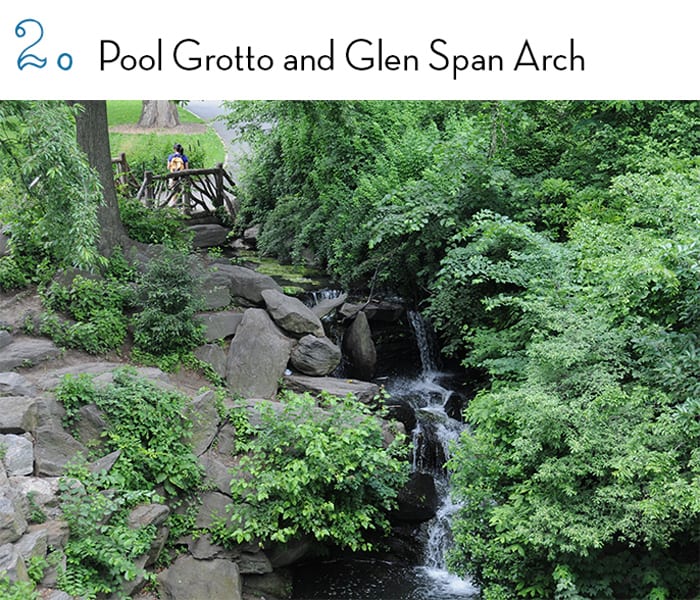 First built in 1865, the Glen Span Arch, one of two rustic arches that form the boundaries of the ravine that leads to the North Woods, is one of Central Park's stateliest and most tranquil attractions. Originally made of wooden trestles, rock pier supports and a wooden railing, the arch was reconstructed in the 1880s with rustic gneiss rock. The nearby man-made Pool Grotto adds nicely to the calming atmosphere, making this part of the park a perfect spot for nature walks, relaxation time and photo opportunities.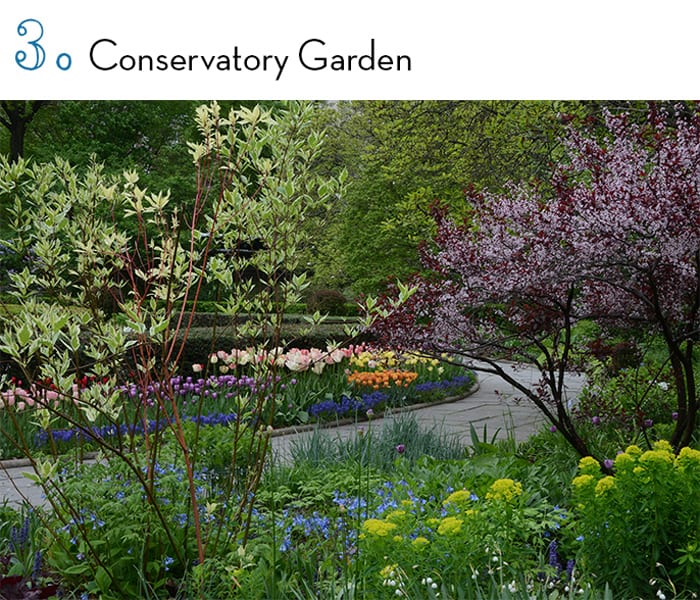 Nothing says New York like Central Park, but that doesn't mean you won't find some European influences within its borders. The six-acre Conservatory Garden, located in the northeast region of the park, is divided into three distinct styles: French, Italian and English. Elegant hedges, a 12-foot high jet fountain, flower displays and walkways abound, give visitors a welcome frisson of the Old World. The garden is also one of the park's official "Quiet Zones," making it a perfect place to relax with a book.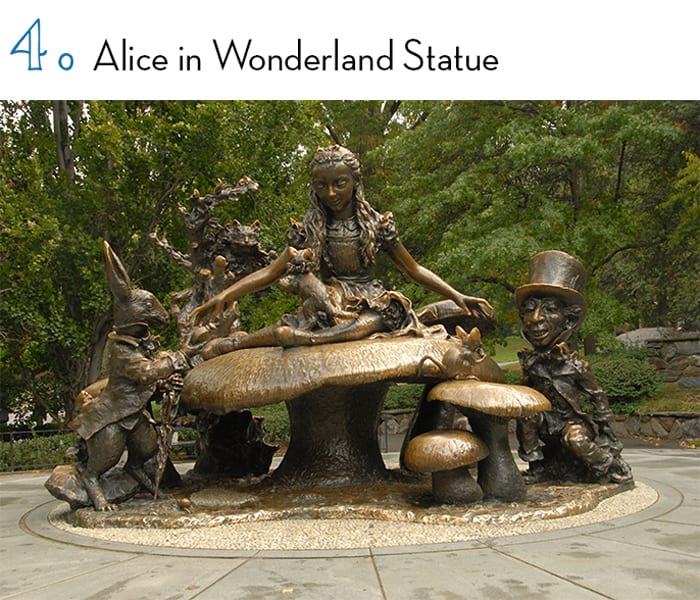 Installed in 1959, this sculpture by the artist José de Creeft reimagines Lewis Carroll's classic novel in bronze, maintaining all the quirkiness and whimsy of the original. Visit the sculpture any day and you're likely to see children and families climbing up next to Alice, the Mad Hatter and other characters to take pictures. If you're in need of a group shot (or even just a selfie) you can't go wrong with a trip this magical and nostalgia-inducing work of art.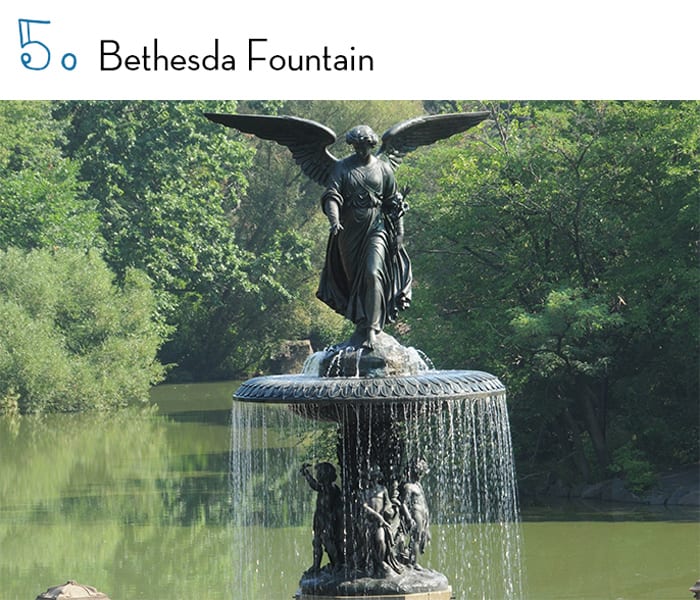 New Yorkers often like to brag that they have the best tap water in the country, but how many of them know that there's a whole statue devoted to the city's water in Central Park? At Bethesda Fountain visitors will find "The Angel of Waters," a sculpture created by artist Emma Stebbins in the mid-1880s to celebrate the introduction of a freshwater system to New York (the angel carries a lily in her left hand to symbolize the water's purity!). Referencing the Gospel of John—which describes an angel blessing the Pool of Bethesda and giving it healing powers—the Bethesda Fountain, along with the Bethesda Terrace nearby, has also been featured in an array of films, including One Fine Day and Enchanted.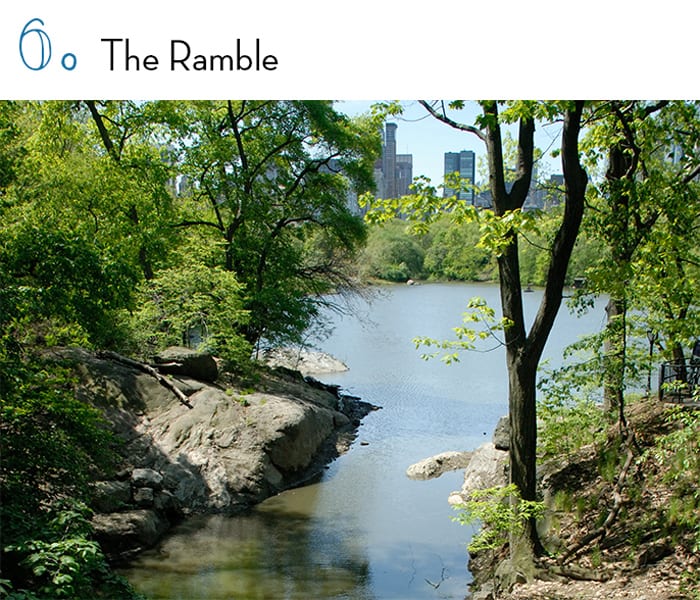 New York doesn't always seem like a great destination for nature-lovers, but The Ramble, often referred to as a 36-acre "wild garden," offers abundant respite from the hustle and bustle of the city. Rife with walkways and a variety of plants, The Ramble offers many opportunities for exploration and relaxation. Owing to Central Park's location on the Atlantic Flyway—a major avian migratory route birds follow in the spring and fall—the secluded area also makes for a perfect place for bird watching.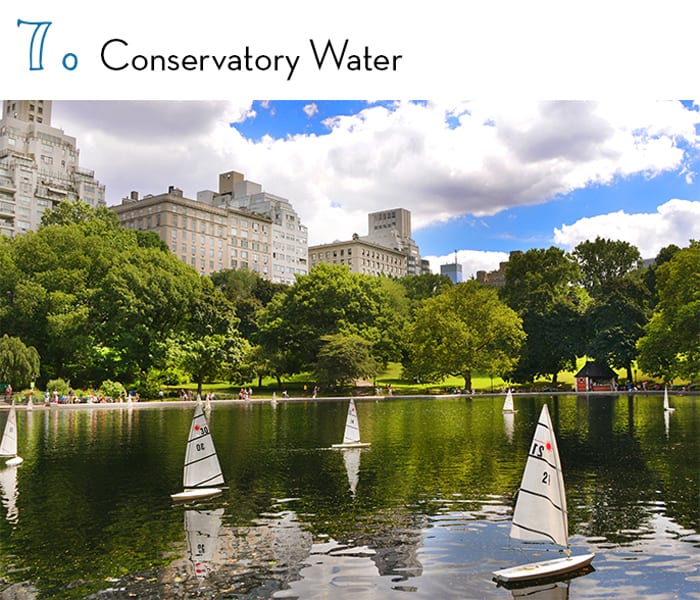 The Conservatory Water, which was originally built as a reflecting pool for a glass conservatory, is one of Central Park's many aquatic attractions. But this one tends to be especially popular with little ones, owing to the fact that visitors can sail rented model boats across its smooth surface. The Conservatory Water also plays a starring role in E.B. White's classic Stuart Little, adding to its family-friendly feel.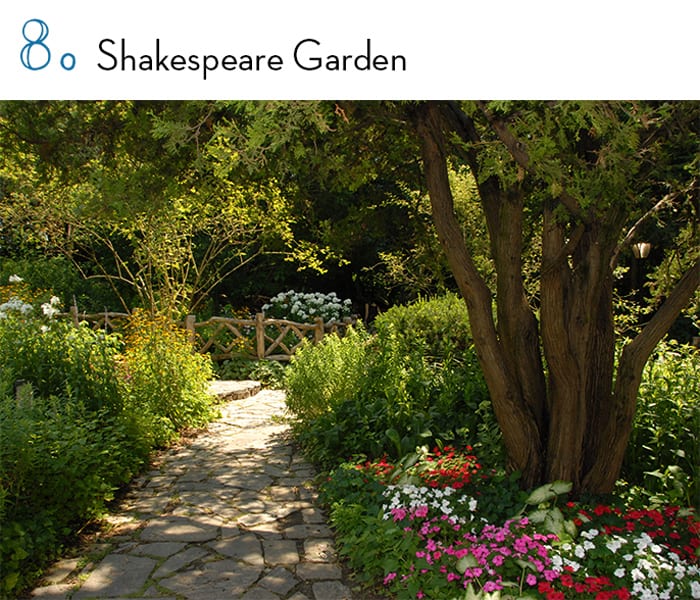 New York has always been a literary city, so it seems appropriate that its main park should have a four-acre garden dedicated to the English playwright and poet William Shakespeare. Created in 1913 by Dr. Edmond Bronk Southwick, who was the Parks Department entomologist and loyal reader of Shakespeare, the Shakespeare Garden includes a variety of plant life (like primrose, quince and lark's heel!), walkways and bronze plaques bearing quotes by "the Bard" himself, making it a perfect place to take a romantic stroll or settle in with a good book.
All photos courtesy of Central Park Conservancy