Eating Clean Every Day: Ham and Egg Cups & Mediterranean Quinoa Bowl
Eating Clean With the Rockettes
C
lean eating isn't always easy—especially when you hit the neighborhood grocery store and stroll down the junk food aisle (we know, so tempting!). Here, Rockette Tiffany and our Head Athletic Trainer Elaine Winslow are here to share some recipes that help the Rockettes eat clean all year round. From Ham and Egg Cups for breakfast to a Mediterranean Quinoa Bowl, you are going to love these delicious, worry-free dishes:
Ham and Egg Cups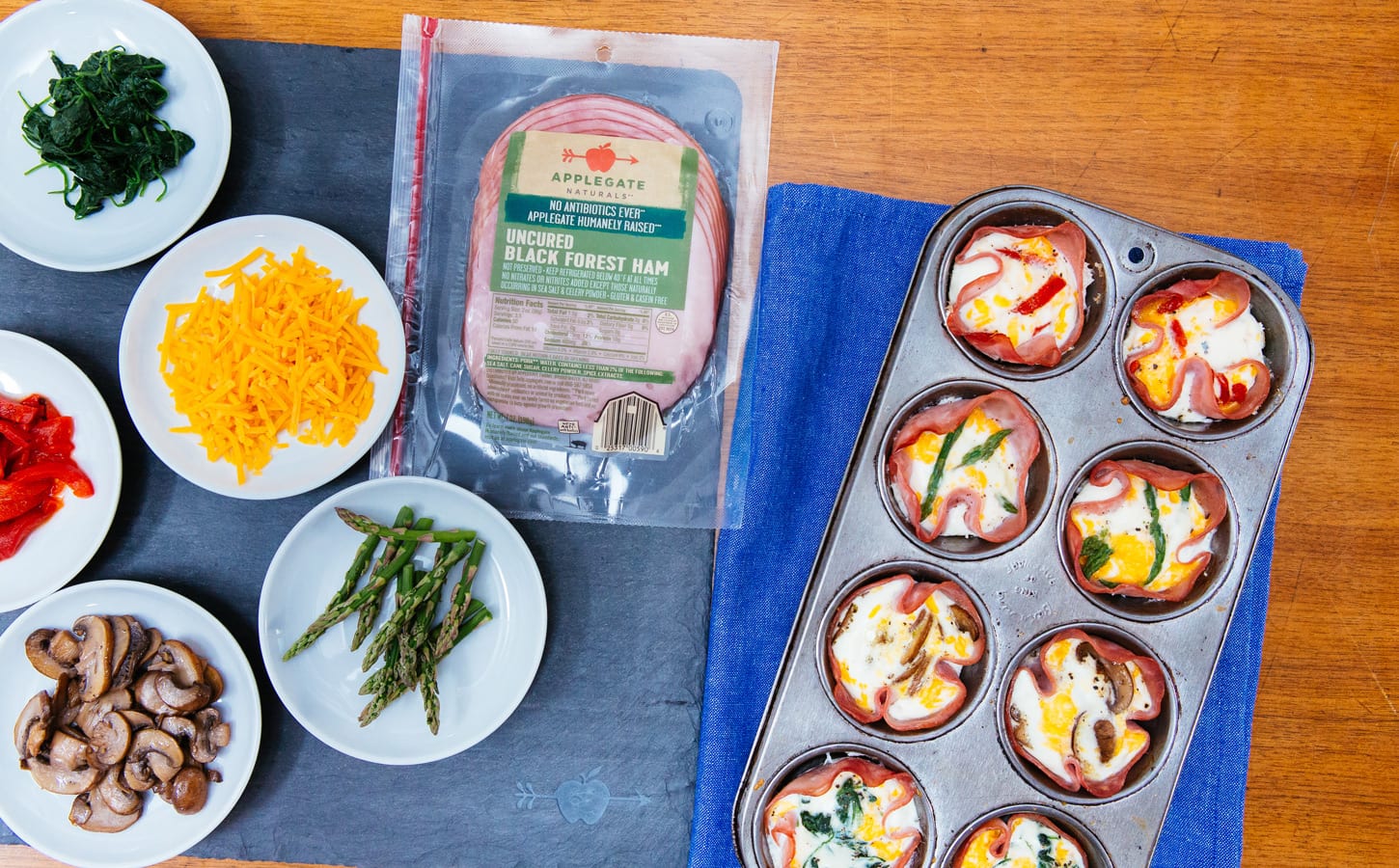 You hear it a lot, but it's true: breakfast really is the most important meal of the day. Choosing a protein-packed meal will help give you energy that will sustain you throughout the day. Not only are these ham and egg cups completely customizable, but they make for the perfect meal for those who are on the go (Tip: you can make these ahead and freeze them and reheat them individually in the microwave!). Here's what you'll need for six cups:
Ingredients:
• 6 slices Applegate Naturals Slow Cooked Ham or Applegate Naturals Black Forest Ham
• 12 egg whites
•  6 tablespoons heavy cream or half and half
•  Salt and pepper
•  3 slices Applegate Naturals Medium Cheddar Cheese
•  Assorted vegetables, such as asparagus tips, roasted red peppers, spinach and sliced mushrooms
Directions:
1. Preheat the oven to 350°F.
2. Line 6 cups of a large (1-cup capacity) muffin pan with the ham slices. Crack 2 eggs into each cup. Drizzle 1 tablespoon cream over each cup of eggs, and season with salt and pepper. Tear the cheese into pieces and lay over the eggs. Arrange the vegetables, as you like, over the eggs.
3. Bake until eggs are set, about 30 minutes. Remove from the oven and let stand for 5 minutes before gently removing ham cups from the tin. Serve warm.
Mediterranean Quinoa Bowl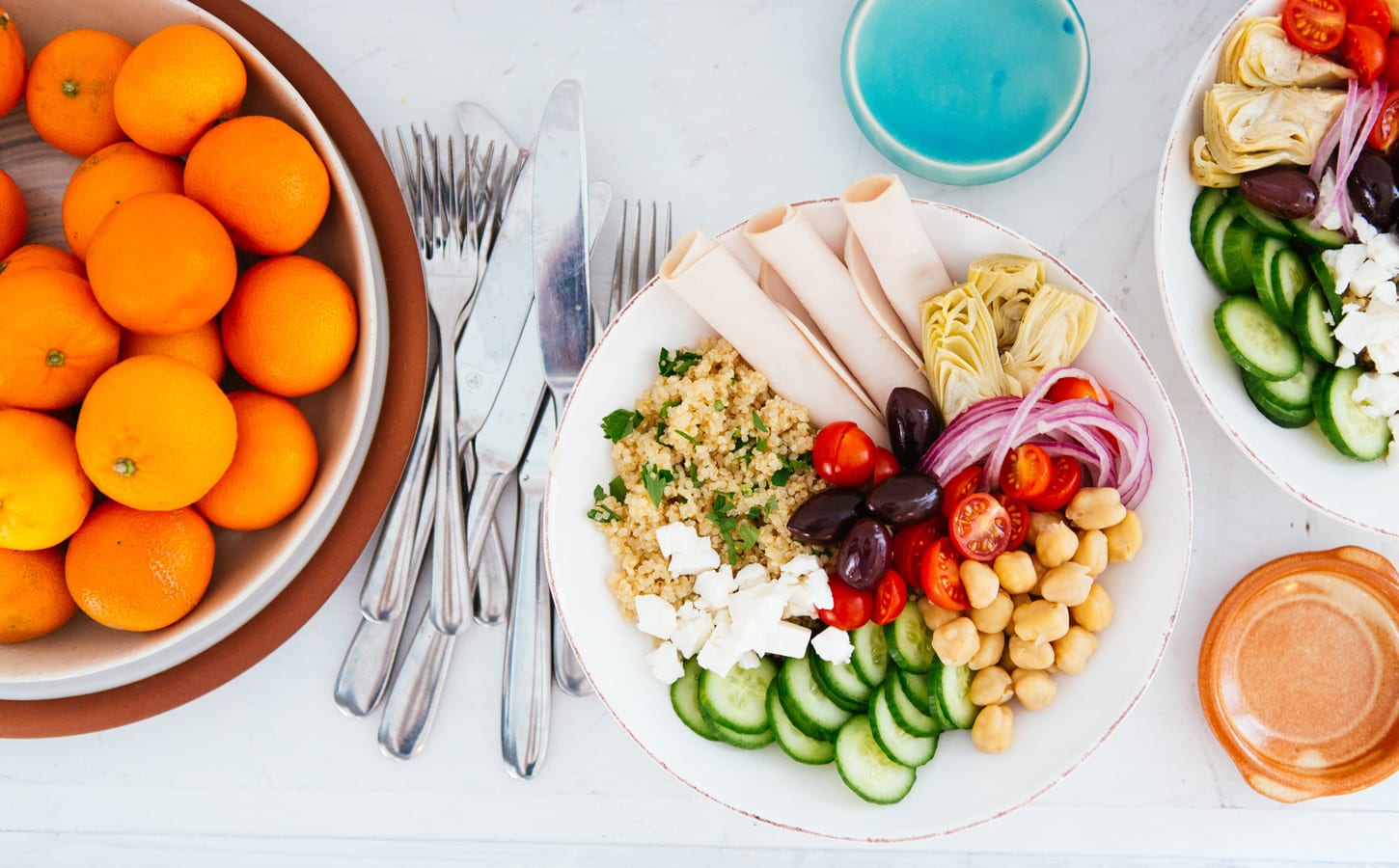 Perfect as a lunch or dinner option, a Mediterranean quinoa bowl is super rich in protein, very customizable (feel free to swap in and out ingredients that you prefer!) and can be put together in less than 30 minutes. Here's what you'll need for a serving of four:
Salad:
•  1 cup quinoa
•  1 (15-ounce) can chickpeas, rinsed and drained
•  1 (8-ounce) package Applegate Naturals Oven Roasted Turkey Breast, chopped
•  1 cup cherry or grape tomatoes, halved
•  2 mini cucumbers, sliced
•  1 cup artichoke hearts, quartered
•  ½ cup pitted kalamata olives
•  ½ small red onion, finely chopped
•  4 ounces feta cheese, crumbled
•  2 tablespoons chopped fresh parsley leaves
Dressing:
•  ¾ cup extra-virgin olive oil
•  ¼ cup freshly squeezed lemon juice
•  1 clove garlic, chopped
•  1/3 cup fresh parsley leaves
•  ½ teaspoon ground cumin
•  Salt and pepper
 Instructions:
1. For the dressing, combine the olive oil, lemon juice, garlic, parsley, and cumin in a blender and blend until smooth. Season to taste with salt and pepper. Set aside while you make the salad.
2. Cook the quinoa in a medium pot of boiling salted water, uncovered, for 10 minutes. Drain in a fine-mesh sieve. Bring about 1 ½ inches water to a boil in the same pot. Set sieve with quinoa over pot (quinoa should not touch water). Cover sieve with a clean kitchen towel and a lid, folding the edges of the towel up over the lid. Reduce heat to medium-low and steam quinoa until dry and fluffy, about 10 minutes. Transfer quinoa to a large bowl. When cooled, add half of the dressing and toss to combine. Divide the quinoa into four bowls.
3. Top each bowl with the chickpeas, turkey, tomatoes, cucumbers, artichoke hearts, olives, red onion, and feta. Drizzle with the remaining dressing and garnish with the chopped parsley.