Bronzer 101: On the Stage and Off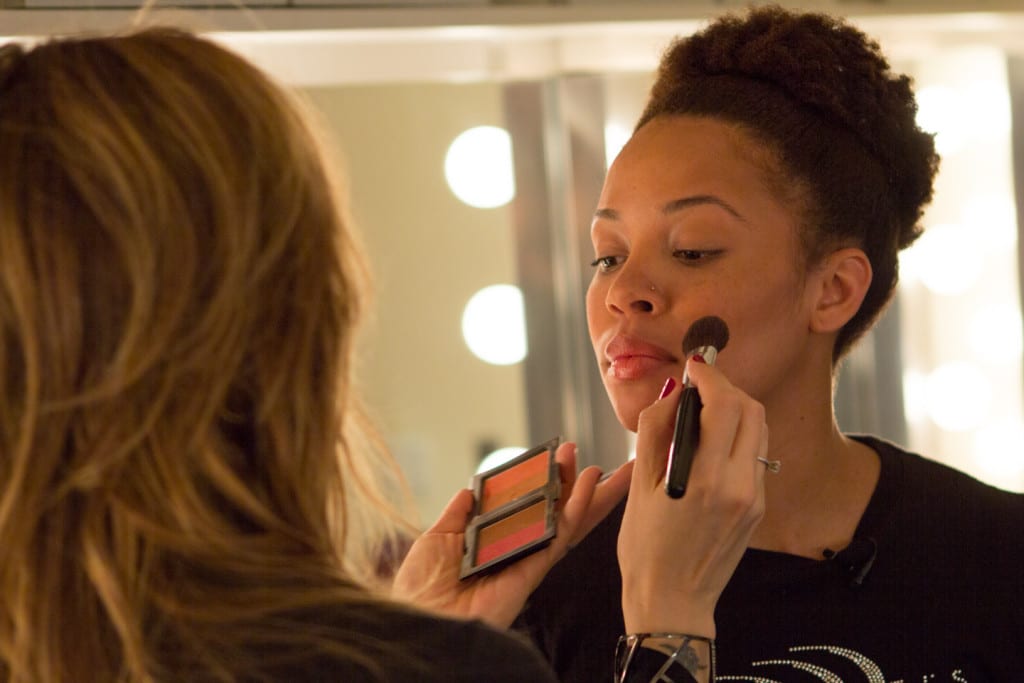 You know we love dance. But did you know we also love getting a little glammed up? And this time of year, when we're eager to add a healthy, tan glow to our skin, we turn to bronzer. We talked to makeup artist and alumni pro-cheerleader Rosemary Klein to get the skinny on how to best use the stuff—for on the stage and off! Here are six things to know:
1. Choose Your Type
Bronzers come in a few different varieties: powders, creams, liquids, gels and sprays. If your skin is oily, powder could help keep it looking matte, whereas gels and liquids can add needed illumination to drier skin.
2. Match Like with Like
If you're going to wear face makeup under your bronzer (totally acceptable), be sure to match like with like. Meaning, if you use a creamy foundation, go with a cream or liquid bronzer, a powder foundation with a powder bronzer and so on. "You can also use a translucent powder to set your foundation, and then use a powder bronzer," says Klein.
3. Go 2 to 3 Shades Darker
Klein recommends going two to three shades darker than your skin tone—sticking to two shades darker for fairer skin. To reduce your chances of buyer's remorse, try out a few different shades at makeup stores like Sephora or Ulta where disposable sponges for testing are on-hand.

4. Use it as a fake suntan
We can't lie—we love the sun, but we also love taking care of our skin. Give your face a sun-kissed glow without exposing it to damaging rays by applying your bronzer where the sun naturally hits your face. Think: your forehead, cheeks, nose and chin. Your skin will thank you later!
5. …or to contour your face on stage.
Using bronzer for dance routines on-stage can help define and exaggerate your features, ensuring that even your fans all the way in the back can make out your great expressions. "By contouring below your cheek bones, temples and jaw bone, your facial features will stand out and be more defined," says Klein,

6. But don't make these mistakes!
With bronzer, less is definitely more. Using too much bronzer or too dark of a shade can give you that fake-orange-tan glow, or even make your face look a little dirty.
Also, ditch the small brushes—at least in the beginning. Start by using a large blush brush to apply your bronzer—or even invest in a bronzer brush. "The larger brush will help to get a softer application. As you get used to how much color works for your skin, you can use a smaller brush that will give you stronger color and more precise color placement," says Klein. And you know we're fans of precision!