Week at a Glance: 2017 Christmas Spectacular Auditions
Spring has sprung and the weather may be warming up, but we already have Christmas on the mind! And so do 937 other dancers who lined up outside Radio City Music Hall last week in hopes of being cast in our 2017 Christmas Spectacular. 937! To break it down, that's 102 male ensemble hopefuls, 340 female ensemble hopefuls, 77 Clara hopefuls and a whopping 418 Rockette hopefuls. Here's a play-by-play of how the week went:
Monday, April 24th: Male Ensemble Open Call Auditions
Monday was dedicated to male dancers as more than 100 talented men made their way to Radio City Music Hall for a 2 p.m. call time. After stretching and warming up in the Small Rehearsal Hall, groups were called into the Large Rehearsal Hall to audition in front of Julie Branam, our Christmas Spectacular Director and Choreographer, and her dance assistants Sam and Dylan.
After a short introduction, the choreography started almost immediately, with the assistants teaching counts at lightning speed and gradually adding in music and more 8-counts until the combination was complete. In these auditions, the assistants are not only there as teachers, but they also provide a visual example for the dancers in the room to help them absorb all of the details in our choreography.
"My advice to all of you is to watch how these two are dancing," advises Julie. "Dance just like them."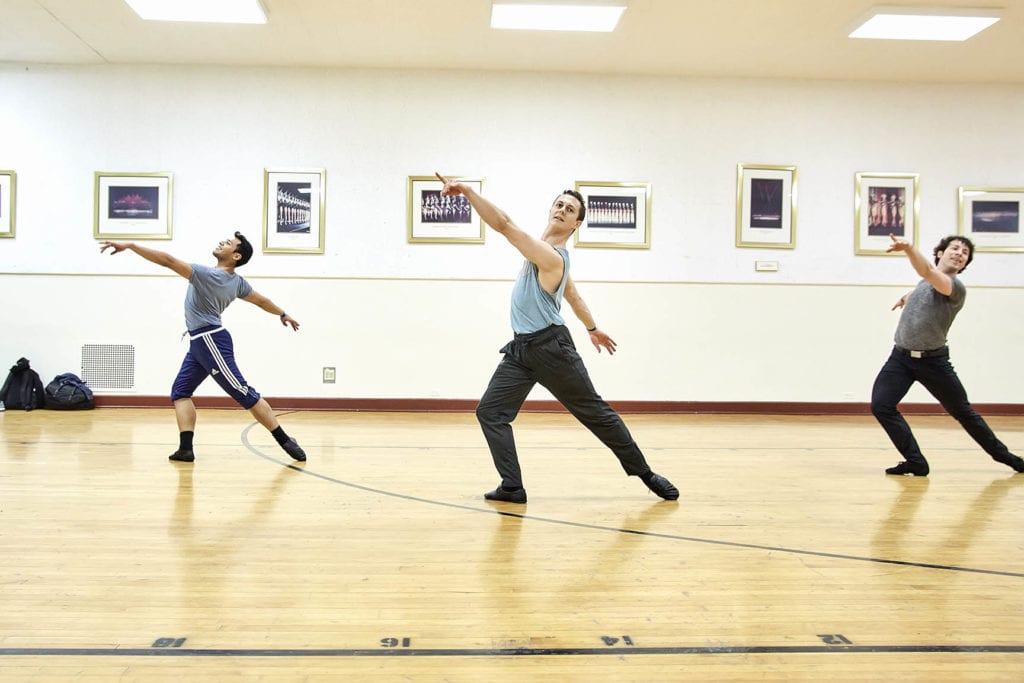 The men then shuffled off to the side and were called into the center of the room in groups of three to perform the routine in front of Julie and her assistants. Some groups got one chance to dance, some were asked to repeat. At the end of the process, cuts were made and the remaining men were asked to stay to learn more choreography. This process continued through ballet and jazz routines and even choreography that is performed under the Russian Bear suits during the "Nutcracker" scene.
---
Tuesday, April 25th: Female Ensemble Open Call Auditions & Clara Open Call Auditions
Tuesday called for heavy rain, but that didn't stop female dancers and young ballerinas from showing up at Radio City Music Hall for audition day!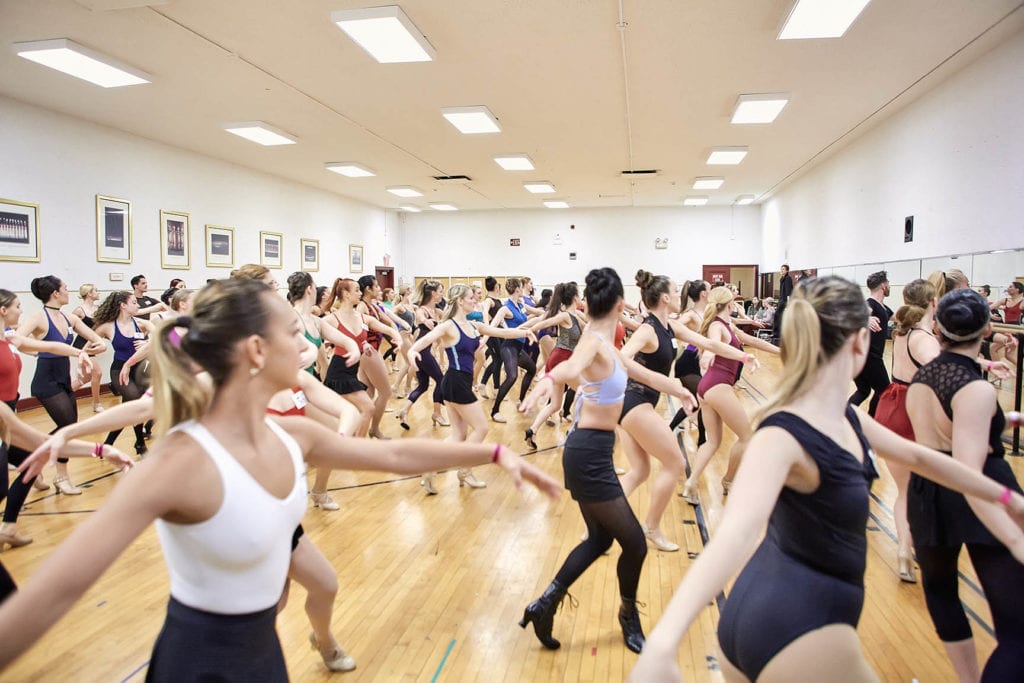 First up: More than 300 women packed into the Grand Lounge to prepare and fill out paperwork before their big moment. With such a huge turnout, the girls were brought up to the Large Rehearsal Hall in five smaller groups to audition for Julie and her team. Similar to male ensemble auditions, female ensemble auditions entailed learning a short phrase of choreography, being called to perform in groups of three, cuts and then repeat with new choreography. The one big difference is that female dancers ended their auditions with a pointe combination!
It was an exhausting morning for these dreamers, but Julie urged those who made it through each round not to let it show: "I know you're thinking hard, but I don't know most of you. You have to show us the joy you have for dance on your face!"
Speaking of joyful faces, the afternoon auditions brought in over 70 hopeful young dancers with smiles hanging from ear-to-ear and pointe shoes ready to show off their best ballet moves for the role of "Clara." But audition day wasn't the only thing causing excitement among the girls! Rockettes Katelyn and Megan, who performed as Clara in the Christmas Spectacular in their early dancing days, stopped by to offer advice to the auditionees, cheer them on and of course, take a few selfies!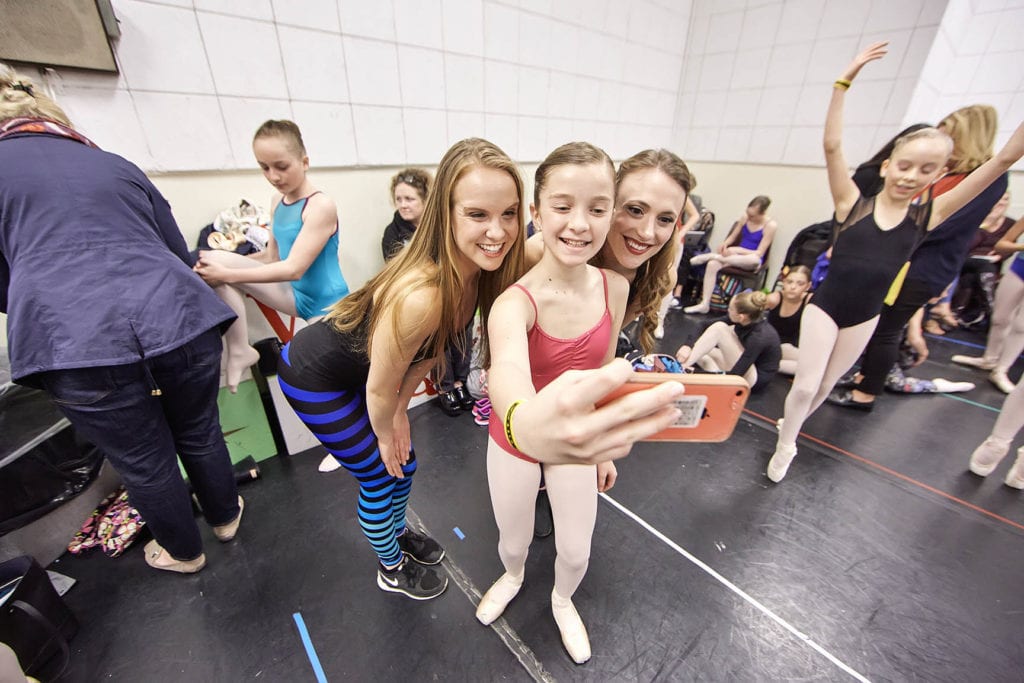 The little girls (we say "little" because all "Claras" must be 4'10" and under!) then said goodbye to their parents and departed for the Large Rehearsal Hall to learn a ballet combination from Julie's dance assistants. After arabesques, jetés, bourrées, échappés, passés, piqué turns and a few rounds of cuts, the remaining girls tried out "finger turns." This entails Julie's assistant Dylan pointing his index finger vertically towards the ground and the ballerina holding his finger as they execute an arabesque-passé turn en pointe—a move that is showcased on the Great Stage in our Christmas Spectacular!
---
Wednesday, April 26th: Male and Female Ensemble Callbacks
The lucky male and female dancers who made it through Monday and Tuesday's rounds of auditions returned to Radio City Music Hall on Wednesday for callback day.
Male ensemble started the morning in the Christmas spirit, pairing their stellar vocals with Christmas choreography for a festive routine straight from the Christmas Spectacular. But that wasn't the only thing from the show they learned. They also tackled the incredible high-kicks, Russian jumps and toe touches that showcases the male dancers during "The Nutcracker" scene.
Female ensemble followed in the morning's footsteps, learning the lyrics to a Christmas Spectacular song and perfecting their dance moves under Julie's direction: "The more energy you put into your singing, the better your dancing will be."
Both groups practiced and perfected routines they learned earlier in the week, eventually departing the Hall with hopeful expressions and excitement to hear if they will be cast in the show!
---
Thursday, April 27th: Rockettes Open Call Auditions
Rockettes auditions always draw a line outside our very own Radio City Music Hall, but even we were shocked to see how many dancers showed up this year! With colorful leotards and french twists down the line, dancers from all over the world waited with anticipation and excitement to enter the building and take the next step towards their dreams.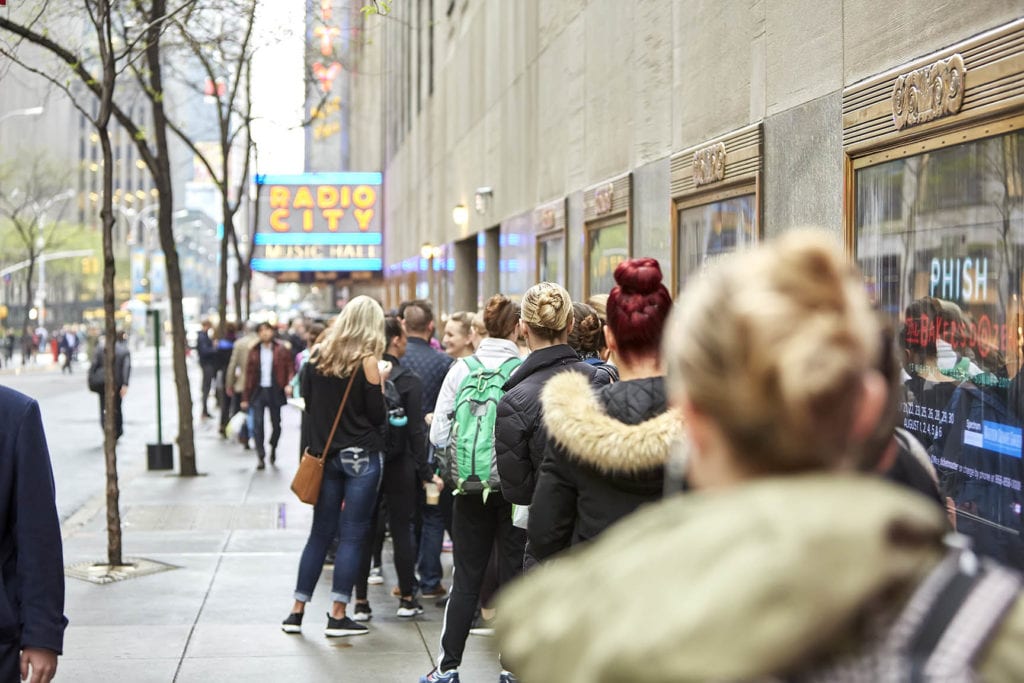 Not just any female dancer over the age of 18 can audition. Julie looks for dancers who are in great physical shape and have the stamina to perform in up to five 90-minute shows in one day (which we do often during the Christmas Spectacular season!). And don't forget about the height requirement: you must be between 5'6″ and 5'10½" tall.
The dancers were split into five groups to enter the Large Rehearsal Hall and show off the range of their dance talent in the forms of ballet, jazz, tap, lyrical and kicks! With more than 400 girls and a limited amount of spots, many cuts were made throughout the day, but that didn't put a stop to the amazing energy of the room.
Even Julie couldn't help herself: "We are strong powerful women, hear us roar!"
---
Friday, April 28th: Rockettes Callbacks
Dancers who made it through the cuts of Thursday's Rockettes auditions started their weekend at Radio City Music Hall on Friday, improving upon their choreography, precision and eye-high kicks in front of Julie, in hopes of joining the iconic kick line that so many dancers dream of being a part of.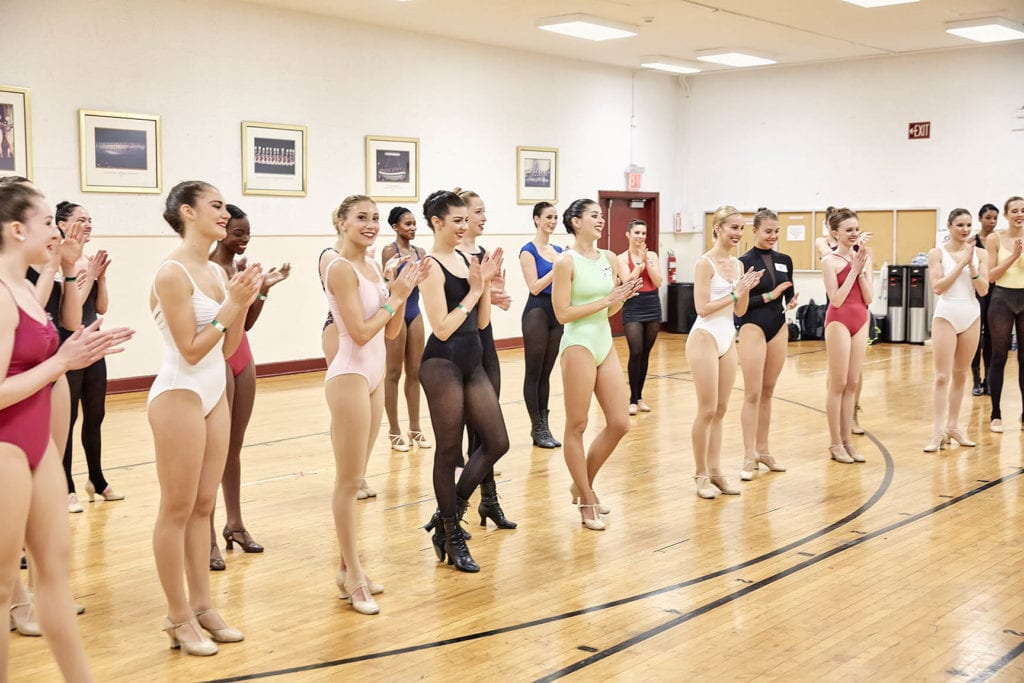 We can't wait to see who joins our Christmas Spectacular cast this year. Merry Christmas to all and to all, good luck!